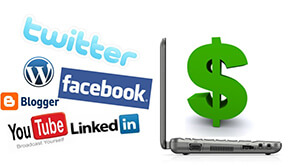 Social media is here to stay. We are a long way past social media only being for the young, early adopters and big business. Today social media is the norm and it should be part of the marketing strategy of every business, no matter what size. If you are not using social media, you are at risk of being out of touch.
Traditional marketing was more about monologue, having one way conversations coming from advertising. There isn't any interaction with billboards, TV or newspapers advertisements.
Modern marketing is all about content and having conversations with your target market. Engaging in dialogue with people is about creating a two-way, value-adding conversation with people who are interested in what you do. It's about helping your followers, friends or connections, listening to what they have to say, and letting them know about useful, relevant information.
Here are 10 ways to help you get serious about social media:
Know your Target Market
Social media users are a diverse bunch, representing all age groups, genders, hobbies and tastes. Knowing your target market is critical to understand what type of images and voice to use in your content.
Select the platform that is right for your business
Don't be overwhelmed by the options, you really only need to focus on one or two platforms. Make a decision on which platform to use based on what is right for your business and which consumers you wish to attract.
Stop counting likes, friends, followers, connections
The number of people who are connected with you isn't as important as the message you are trying to convey. Concentrate on the community you have and care about what you are doing for them.
Write original content
Get busy writing, share knowledge, add value for your connections and become an "expert" in your field.
Use Images
Whoever coined the phrase, a picture tells a thoughts words, was ahead of their time. Be clever about how you use images and other media, your social audience will appreciate your efforts.
Be consistent
Approach social media methodically and with the same care as you give to the rest of your business success. Be socially responsible and reliable for your followers.
Think long term
Results don't come overnight. You need to invest at least 6-12 months of consistent, relevant content to see any returns.
Tailor campaigns
You can focus your attention on the people you most want to target by selecting preference based profile information and online interests.
Measure Results
Control your costs and how to measure your ROI.
Join Communities
Connect with like-minded, similar communities who share similar interests. Creating a community is very important in the social media space. Serious social media is not one sided.