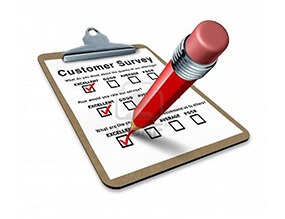 Have you ever considered developing a survey to further understand your business?
Have you ever wondered what your customers think about your service or your products?  I have, which is why I think developing a survey is often the best way to get information and feedback. A survey can collect data on information like: your customer service, what products your customers like and dislike, the atmosphere of your office etc. Once this data is collated it can then be used to improving your planning and programming.
You might ask, how on earth do I develop a survey to answer all my questions? Well that's simple; in this article I will give you some helpful tips on how to develop a great survey in order to collect all the relevant data, which you would like to know about your company.
The steps to take are:
Design the survey
Develop the questions you would like to ask
Testing and training
Collecting the data
Analysing the data
Develop actions to be taken
Types of Surveys:
Depending on how sensitive your survey topic is you must decide what type of survey you want to design. Surveys can be done either by:
Contacting potential respondents (in-person, telephone, mail or email)
Presenting the questions (written or interviewer)
Recording responses (paper or electronic)
Types of Questions:
There are two types of questions, which can be asked in a survey. The first is called a structured or fixed question. A structured question is a question which only offers the responded a closed set of responses to choose from. An example of this is, "Were you born between the years 1980 and 2000? – Yes or No". The second type of question is called a non-structured or open-ended question. A non-structured question is a question where there is no list of answer choices. Respondents are asked to write out their response. If there is a partial list of answers, respondents are allowed to choose all answers that apply to their response for that question. An example of this is, "Please tell us a good experience you have had with this company. ___________________________________________________________________".
Tips to creating good survey questions:
Clearly stating the intentions you have with your research will allow people to hesitate less when answering the questions. Some people can feel uncomfortable answering questions about themselves and their opinions on topics.
Having instructions with your survey is a must. Something that may seem simple and obvious to you may not be the same for someone else. To make sure you collect the precise data from your survey give instructions on how to answer your questions.
Personal information should not be asked for unless it is absolutely necessary, and even in this situation you must clearly state that the information will be used for research purposes ONLY.
Keep your questions short and concise. Avoid asking a double-barrelled question. This is when there is more than one question asked at once. You don't want to confuse your respondents and keeping questions short allows you to get clearer answers. No biased questions (leading questions). Influencing people towards a particular answer based on your own opinion won't give you truthful results. Try and make sure that your questions are neutral.
Make sure your respondents can answer your questions. Avoid questions they may not remember the answers to and if your survey is aimed at a certain age group try and aim your questions towards that age group.
Having your survey in a clean and organized layout will help your respondents to not get confused. You don't want it to be too busy.
Lastly, test out your survey and wait for your results.
Collecting:
After collecting all the data from the survey the next step is to segregate the answers into sections and analyse it. The best way to do this is to divide the answers based on their questions, if they were open ended questions if they were closed ended questions and then you can continue your analysis based on the answers and if the survey was a valuable asset to your company and if is worth taking the time in doing surveys.
Analysing:
Your analysis should be able to give you a clear indication on where people stand on the topic of your survey. The questions should have been structured in a way, which gave you the answers you were looking for. Now that all the questions are segregated into sections you should be able to pin point the weaknesses and the strengths within the topic.
Developing:
The analysis of the data will help you develop further actions to take within your company, brand etc. It will allow you to see and make a decision whether developing a survey for your company, brand or topic is useful and if the feedback is relevant to what you were researching. After gathering the results and analysis it will give you a start on developing a strategy in working on the weaknesses of the brand/company as well as making sure you maintain what consumers like as the strengths of the brand/company.
Using these tips will help you develop a great survey, which will help you gather informative data. It's not terribly difficult to write a survey as long as you keep it simple and concise people will be more than willing to help out.
Written by:  Anastasia Papadopoulos, University of Adelaide Student