Last week, our Head Giraffe, Lynda, General Manager, Kelly, and Marketing Consultant, Holly, ventured to the heart of Australia's mining community, Kalgoorlie, to attend the renowned Diggers & Dealers mining forum. And no, they weren't there to dig for gold (though we heard they tried!). They were there to support our valued client, Clarke Energy.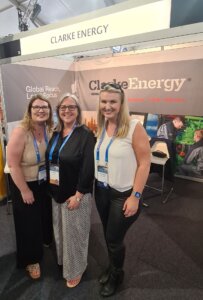 Now, Diggers & Dealers isn't just any event. It's Australia's leading mining forum, boasting 66 corporate presentations, an exhibition area with over 159 exhibitors, and a delegate list that reads like the who's who of the mining world – all held over 3 days in a remote Australian town. From miners, explorers, and brokers to bankers, investors, and media moguls, this event is the place to be if you're in the mining and resources sector.
But why, you ask? Let's delve into the bedrock of why mining and resource companies should integrate trade show events and forums into their marketing strategy.
Networking Nirvana
Just as the Purple Giraffe team experienced, events like Diggers & Dealers provide an unparalleled opportunity for industry professionals to mingle, share insights, and forge valuable connections and relationships. Whether you're looking to raise finance, invest in projects, or simply get the latest industry scoop, these forums are the place to be.
Media Magnets
With a 20-strong media contingent at Diggers & Dealers, the proceedings of the forum were widely reported. For companies, this means a golden opportunity (pun intended) to gain media exposure, showcase innovations, and position themselves as industry leaders.
Location, Location, Location
Held in Kalgoorlie, the unofficial gold mining capital of Australia, events like these immerse attendees in the very heart of the industry. It's not just about presentations and exhibitions; it's about experiencing the mining culture, visiting regional mine sites, and truly understanding the industry's pulse.
Brand Boosting
Remember our previous blog about maximising brand awareness for beverage brands? The same principles apply here. Trade shows and forums allow companies to showcase their brand, differentiate themselves from competitors, and engage with potential clients in a dynamic setting.
Knowledge Nuggets
Events like Diggers & Dealers are a treasure trove of industry knowledge. From the latest technologies and innovations to market trends and forecasts, attendees can gain invaluable insights to inform their business strategies.
Community Connection
Being part of events like Diggers & Dealers allows companies to be part of a larger community. It's not just about business; it's about building relationships, understanding challenges, and collaborating on solutions.
A Treasure Trove of Merch and Prize Draws
There seemed to be an unofficial competition amongst Diggers & Dealers exhibitors on which company offered the best giveaways.  Merchandise can be a great way to attract interest in your exhibit and promote conversation.  And high value (real or perceived) prize draws can be a great way of building your database.  The benefits of merchandise can be a whole blog in itself – so stay tuned for that one!
Integrate your Event Plan into your Marketing Strategy
An integrated event plan forms a key part of an overall marketing and communications strategy.   Consider your target audience and who is likely to be there when deciding whether to participate.  And we definitely encourage you to explore all options for involvement from attending as a delegate only or as an exhibitor, to presenting opportunities, and sponsorship opportunities – at Diggers & Dealers there is a sponsor for everything…. Cocktail Parties, Gala Dinners, Juice Bars, Coffee, Water – and the overall event itself!  So be sure to review all your options.
While our team might not have struck (actual) gold in Kalgoorlie, they certainly unearthed the immense value of trade shows and forums for the mining and resources sector – and the benefits easily translate across industries! So, don't miss out on leveraging these golden opportunities. Integrate industry events and forums into your marketing strategy and watch your business grow!
If you're ready to unearth the hidden gems in your brand and elevate your marketing strategy but need a little help to make your brand shine, get in touch with the Purple Giraffe team today.  We'd love to help!