Things in life we can be sure of are death, taxes and…. social media platform changes.  
Speaking of which, there have been a couple recent social media changes that are game changers for your business, and we want to make it easy for you to be across them – so we're sharing the low down on them here…. 
Facebook's new Pages experience replaces classic Pages 
Facebook have slowly been transitioning towards replacing classic Pages with the new Page experience, and it looks like their rollout is almost complete – with no option to go back.  
When your classic Page updates to the new Page experience on Facebook, all content including posts, photos, videos, stories and groups that your Page is an admin of will automatically move to your new Page 'look'. Your Page likes, followers and blue verification tick will also be transitioned to your new Page.  
This new Page experience will include the introduction of a re-designed Page layout that Facebook says is cleaner and more intuitive. However, as a result, your Facebook Page will appear different due to the layout and positioning of features changing and displaying differently. Therefore, it is essential to take a moment to familiarise yourself with the new layout and get accustomed to the changes. 
And a pro tip from us…. review your Facebook cover photo and profile picture on both desktop and mobile devices once your page transitions to the new Pages experience because the new Page experience may impact on the presentation and display of the features. For example, if your Facebook cover photo has text, make sure it is still visible and not cut off by the new layout.  
Instagram introduces new transparency tools 
Not to be outdone with changes, Instagram is also rolling out a new update where pages can find out if they have violated any of Instagram's Recommendation Guidelines. 
This new update means you can be aware if any actions you are taking that may be affecting your content's ability to reach the explore page or from being recommended in another person's feed. For example, this can happen when Instagram finds your content to be of low-quality or unoriginal.  
Once you know what is impacting a posts' ability to perform and reach new audience, you can adapt the content and be considerate in the future so you can have high-performing pieces of content back in audience's feeds again.  
Follow this simple step-by-step to access this new feature:  
Go to Settings > Account > Account Status

 

Select Recommendation guidelines 

 

You can then remove, edit or appeal the content breaching the guidelines and then await a decision from Instagram 

 
You page should look like the below.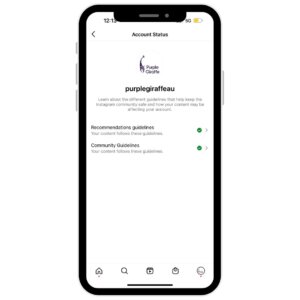 Both features are slowly being rolled out to all, so if you don't have them today don't stress, you'll be able to test them out soon enough!  
If you need help with your social media, our specialised team at Purple Giraffe are just a phone call away – get in touch with us today! Call 08 8425 2970.