Australia has been enraptured by an extraordinary pop-cultural sensation – the exciting impending arrival of the global icon, Taylor Swift, also known as 'TayTay'. The frenzy surrounding procuring tickets for her upcoming 2024 concert has evolved into a viral sensation, even captivating those not planning on attending. It has 'swiftly' become a major societal event, attracting widespread attention in an incredibly short span.
This whirlwind excitement presents an abundance of opportunities for marketers and brands to exploit. By tapping into this conversational craze, they can meaningfully engage with existing consumers and attract prospective ones across various social media platforms. Indeed, the enthusiasm and hype enveloping the concerts have already been effectively utilised by several brands.
Consider the Australian Federal Police (AFP), who unusually posted on Facebook, "Does anyone have a code to get Taylor Swift tickets, please?". This playful interaction – and equally hilarious comment responses – garnered over 8,000 likes and over 800 re-shares and counting.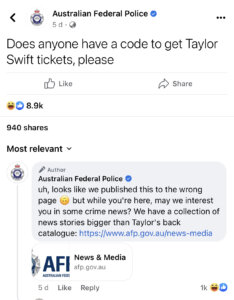 Equally successful was Jetstar's cheeky brag, "I got tickets ha ha", generating substantial engagement from its audience, not to mention the reach and impressions gained and brand personality built.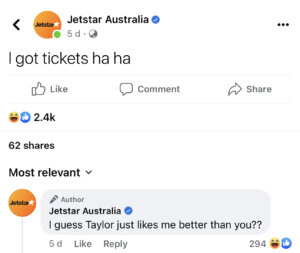 Why it's Important to Jump on Trend
By piggybacking on this topical trend and incorporating the 'TayTay' narrative into their social media content, these organisations have successfully amplified their reach, boosted engagement with new audiences and brought their brands to life.
Capitalising on such social trends can prove to be a powerful tool for brands seeking to humanise themselves and foster a genuine connection with their existing and new audiences. Participating in conversations that hold cultural significance can make a brand feel more relatable and authentic to its audience.
Leveraging the pre-existing buzz around trends helps brands reach a larger audience, driving social media marketing to new heights. To stand out in the fiercely competitive digital landscape, brands must utilise trending topics in novel, engaging, and, most importantly, brand-relevant ways.
To ensure your business makes the most of trending cultural events – whether it be a Taylor Swift concert ticket sale, or something else – consider these tips:
Be Prompt and Proactive

Keep updated with the latest trends to ensure you're not missing out on any engagement opportunities for your brand. Timing can make all the difference in the rapidly changing digital landscape.

Stay Authentic

It's important to integrate trending topics with your brand's voice and values. Avoid forced involvement. It should feel natural, if not somewhat playful or cheeky – resonating with your brand's personality.

Ensure Relevance

Not every trend will align with your brand. Before jumping in, evaluate whether the trend is relevant to your target audience. But also, if it is good enough for the AFP, it is likely good enough for your brand too!  Sometimes slightly unexpected can be impactful and memorable!

Creative Execution

Stand out in the crowd with original and innovative content. Make sure your brand brings something unique to the conversation.

Engage, Don't Just Broadcast

Encourage two-way communication by responding to comments and sharing user-generated content. A great example of this is the AFP's responses to comments on its TayTay ticket post – do yourself a favour and take a scroll through.  They have cleverly weaved their messaging into the response in a playful and relevant manner.
The 'TayTay' concert ticket craze currently gripping Australians underscores the power of cultural trends in providing opportunities for brands to drive engagement on social media. Brands can harness such trends by joining the conversation to boost visibility, inject some personality into their brand, foster meaningful interactions, and create a distinctive identity in a competitive market.
Success in this strategy requires being timely, creative, and above all, authentic. In a world where consumers are bombarded with content, they yearn for something genuine, unique, and fun! With these strategies in mind, brands can ride the wave of trending topics to achieve their marketing goals – and you needn't wait for another Taylor Swift concert sale frenzy – plenty of other opportunities will arise.
The most important question though…. Did you get tickets? We did! 😋