Google plays an undeniably large role in the discovery of businesses and brands both locally and globally. It's therefore crucial to ensure your Google Business listing is an accurate reflection of the services you offer and also takes full advantage of the optimisation tools available to boost your ranking in online search results.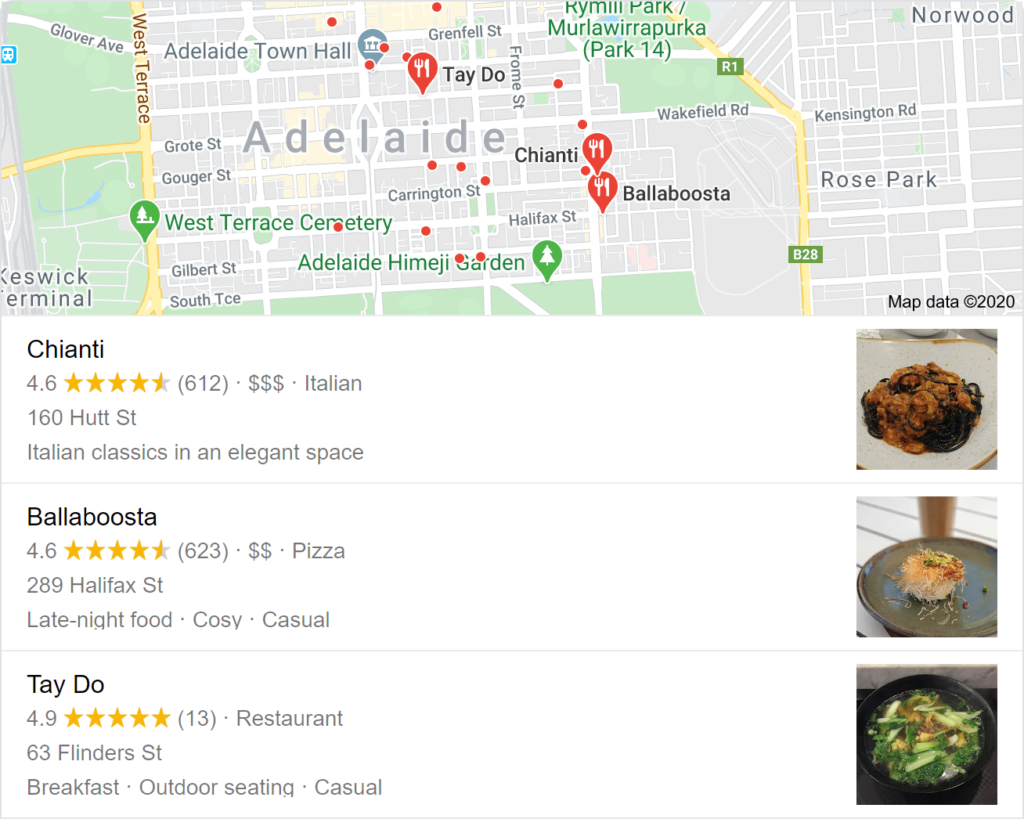 In 2015 Google added the Local Pack feature to most search results – this small box showing the top three results attracts an astonishing 44% of clicks, compared to just 19% with paid search results. Optimising your business's listing can clearly be more effective than an uncoordinated paid advertising approach!
Google uses many factors in its rating algorithm, which determines the order of businesses in search results. While you can't affect some factors, such as the user's proximity to your business, you can influence others to work in your favour.
Use 'Categories' appropriately
A key element of your business listing is your business type, which Google describes as a "category". Accurately assigning a category to your business's profile will improve your listing ranking when someone searches a relevant generic term, such as "doctor", "restaurant", or "lawyer".
This is particularly helpful when someone is looking for a specific service, and not an individual brand or company. This is vitally important for discovery of small businesses, which may otherwise be overlooked in a collection of similar undifferentiated businesses!
Your listing can be further improved by including multiple categories. However, be sure to add only categories that are completely relevant to your business. For instance, if you operate a restaurant and serve alcohol on premises, don't include the "bar" category. Conversely, if your business specialises in one or more particular areas, you should include this in your listing with a suitable category – "dermatologist", "Thai restaurant", or "patent lawyer", etc.. There is no ranking penalty imposed for including multiple categories, so be sure to include all that are appropriate to widen your online reach across differing search terms. Google gives the first and "primary" category the greatest influence.
Keep your photos up to date
Google is fiercely protective of its search result algorithm and doesn't reveal exactly how it operates, but it's widely accepted that Google favours businesses which frequently upload and update content on their business listings and websites. It's unlikely that your business will need to frequently update essential details such as its name and location. Instead, uploading photos on a weekly basis is a viable alternative, which now represents the standard industry practice.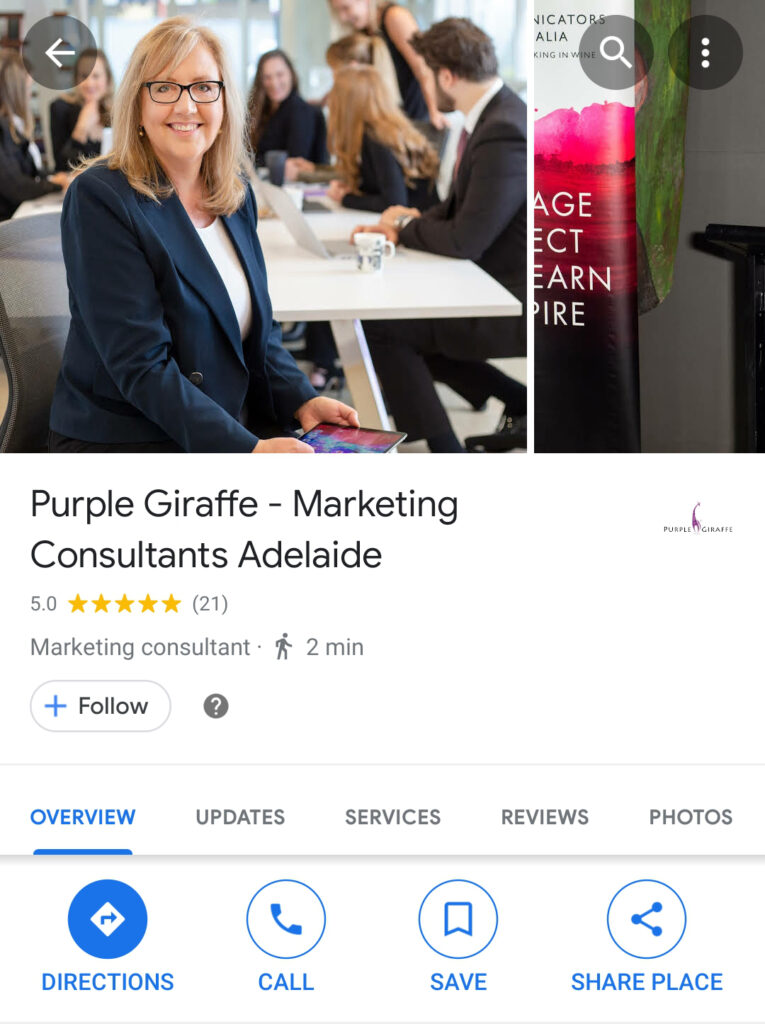 Photos can be used in many different ways. You can set a specific photo as your business's logo, and another as your business's cover photo. Both will generally appear in search results and in Google Maps, improving the appearance and quality of your listing. You can also tag photos as being of the interior or exterior of your business. This way customers and clients know what to look for when driving to your business. Some web analysts recommend geo-tagging your photos (by embedding your business's address) too.
Your regular steam of uploaded photos doesn't have to be glamourous and professionally shot – though this would be advisable for at least your initial batch and cover photo! Using ad hoc content from your social media is perfectly acceptable and may actually be more in keeping with your business's personality than a series of staged snaps. Just make sure they're clear and in focus!
Don't forget anyone on the internet can upload photos to your business's profile. So, it's a good idea to keep an eye on any uploads and request Google deletes them if they're inappropriate.
Build your prominence
Google's calculation of your business's prominence extends to both online and offline presence. While it may be difficult to quickly increase your offline presence, building your online presence is easily achievable.
Mentions of your business on other websites, as well as links to your website (known as 'backlinks') help boost your online prominence. This means don't be shy to engage with other businesses, engage in promotional events and media, have an active presence on your and others' websites' blogs, and request partners and suppliers include a mention of and link to your business on their websites – you can return the gesture and do likewise for them.
Google's calculation of online prominence also includes factors such as the number of reviews your business has and the average score of those reviews. Positive reviews will obviously improve performance here, so be sure to encourage satisfied customers to leave a five-star rating online.
The ever-changing search algorithm
Building a Google listing may appear straightforward and like a one-off. However, its maintenance is crucial to ensuring you receive a favourable position in search results. These suggestions make for a great starting place, and represent the conclusions of numerous studies and tests of trial and real online listings, as well as Google's rare insights into its algorithm.
While these tips reflect our current understanding of the search algorithm, Google is always tweaking and updating it. Your businesses need to be active online and respond to changes to preserve its spot in the local ranking results. A healthy and effective business listing is well-maintained and accurately reflects your business's functions and services – be sure to have a clear marketing image and share it online!
References
support.google.com/business/answer/7091
support.google.com/business/answer/7249669
blog.oneupapp.io/how-often-to-post-on-google-my-business/
asapmaps.com/Google-My-Business-Photos-help-local-seo
medium.com/@ASAPmaps/5-expert-tips-for-your-google-my-business-photos-asapmaps-e91463be0ca0
spyserp.com/blog/google-local-pack-google-map-pack-what-is-it-and-how-to-optimize
biznessapps.com/blog/google-local-pack
smartinsights.com/search-engine-optimisation-seo/seo-analytics/comparison-of-google-clickthrough-rates-by-position/
1stonthelist.ca/blog/what-you-need-to-know-about-googles-new-local-3-pack/
neilpatel.com/blog/what-we-learned-about-googles-local-results-from-analyzing-119221-urls/
staenz.com/rank-higher-google-my-business-listing/
moz.com/local-search-ranking-factors
searchengineland.com/7-things-you-might-not-know-about-google-my-business-categories-310312