Interns, Gather Round!
Today – 27 July – is our day, National Intern Day!
WayUp created National Intern Day to dedicate a day to recognise, acknowledge, and celebrate the future leaders of the world—the interns..
The life of an intern can be full of ups and downs. From the excitement of progression in your chosen career coming into motion to the nerve-wracking feeling of leaving the safe walls of university and entering the real world.
Having mastered the academic side of marketing, communications or whatever you've specialised in education-wise, it's important to translate that into practical experience … which is where an internship comes into play.
There are many internship opportunities available in Adelaide. Some are offered through universities and there are other company specific intern programs readily available for students or recent graduates to seek out.
Purple Giraffe is an outsourced marketing consultancy that champions intern support – regardless of the status of the candidate. Purple Giraffe works with the University of Adelaide and University of South Australia's intern programs and also offers internships outside of the Uni programs. The main objective is to provide practical opportunities to students who want to learn, experience or master in the marketing industry.
A Day in the Life as an Intern
Asking what it is like at the Purple Giraffe Tower as an intern is like asking how long is a piece of string?
As one of those finishing students, I can say every day has been completely different. One day it could be website optimisation and the next day it could be a video shoot. The work you are assigned will vary depending on the availability of client projects.  the Giraffes make an effort to tailor tasks to the interests of their interns. As their saying goes – When you win, we win!
My experience so far?
There's a constant switch in new ideas and workflows getting thrown at you (in the best way possible), a supporting and friendly team of Giraffes, nice local eats (I'm looking at you, Mister Pigeon) and of course, this lovely, attention seeking, attentive Wellness Consultant, Coco!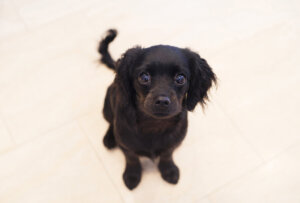 Time tends to pass super quickly, so quickly that I've risked my 2-hour parking on Gilles Street many times after getting lost in the work at hand, and I couldn't enjoy that aspect more.
It's easy for a business to keep the intern 'busy' by stacking them with back of housework, coffee runs or guidebooks on the 'How To's' of their chosen industry, but not in the Tower.
It's a hands-on, dynamic, fresh, and friendly environment which has offered experience in real-world, practical projects.
Internships at the Tower tend to be 2 – 3 days a week for around 10-12 weeks. But again the Giraffes are pretty flexible, so it's best to talk to them about your specific needs.
Interns Through the Ages at Purple Giraffe
Purple Giraffe's internship offering is not a new thing. It's been a passionate program of Head Giraffe, Lynda Schenk ever since the Tower's inception.
Lynda says, "It's in line with Purple Giraffe's values to support and nurture students and recent graduates by offering internships with our team. We always try to offer meaningful projects that will help develop an intern's skills and match their interests, and perhaps open their eyes to other potential pathways."
Over the years, Purple Giraffe has welcomed a plethora of fledgling marketers from all walks of life. Some interns go off to a full-time position in the field of their choice, sometimes in organisations Lynda has referred them to like Jess and Dipali, and others, like Alice, Alec, Asha and Fadila, who interned in the Tower and soon transitioned to a fully-fledged Giraffe after completing internships.
I caught up with Fadila to find out about her experience.
"Interning at Purple Giraffe was a transformative chapter that shaped my career and personal growth in incredible ways", Fadila reminisced.
"Stepping into the Tower in 2021, I immediately felt embraced by a culture that fostered curiosity, celebrated creativity, and cherished diverse perspectives. Now, as a proud full-time Giraffe, I reflect on my journey with deep gratitude.
This internship not only allowed me to uncover my true passion but also equipped me with the essential skills to thrive in this dynamic industry. I am forever grateful for the countless opportunities Purple Giraffe has provided and the unwavering support of an extraordinary team of professionals."
Looking to Become an Intern?
If you are at the tail end of your studies and thinking of gaining some industry experience first-hand, Purple Giraffe may be the next chapter for you and a brand-new opportunity to step into the real world. And who knows, next National Interns Day the Tower might be celebrating you too!!
Contact the Tower today to discuss potential opportunities.