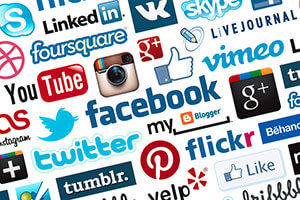 How many people do you know don't have Facebook, Twitter, LinkedIn or Instagram? I would highly doubt that you could think of 10 names right now, of friends or colleagues that do not interact on an online platform for social or work purposes. But there's nothing wrong with that? We live in a society that is becoming more technological every day. So instead of sitting back and watching other businesses reap the rewards, isn't it time you made the move to social media networking for your business?
Social media is a valuable and vital source for all businesses, across all industries.
It provides a space to share product information, advertise new product launches, specials, and the list goes on. With the age of technology growing at a rapid rate, more and more consumers are leaning towards using online resources to find information regarding businesses, or buying products. It is therefore essential that your business stays ahead of the game, using digital media and the internet to your advantage.
When analysing the benefits of utilising social media, there are several key components that should stand out to businesses;
Free advertising
A well managed social media account is a free space for you to advertise your current products, whilst it can also be used to advertise new products to the entire online population. Although there are now many ways a business can pay for advertising on many of the platforms, the basis of each platform is free and easy to use.
Communicating/Engaging
The main advantage of social media is the engagement with consumers. The space to be utilised to provide feedback/communicate with consumers in regards to a good or bad review, networking for business, or answering any queries anyone might have.
Developing a personality for your brand
By posting pictures, blogs and communicating with consumers, social media allows you to develop a personality for your brand. Social media is a place to express your company's interests.
Through utilising social media platforms (such as those listed above), businesses have an opportunity to showcase what they have to offer, whilst gaining valuable online exposure for your business and brand name. The above points are only a small collective of what this media has to offer, and the benefits associated with the online platform. As a new or continuing business, regardless of the industry, social media is the place for you and your company's future.
If you wish to know more about social media and its benefits to your company, or need some help managing your online accounts, please don't hesitate to call or enquire.
Angus Bruce  –  Marketing and Communications Student, Uni SA