Tourism, and its related industries, employs one in every ten people around the world. Even with the advent of COVID-19 and the impact that this has had on global travel, there is still  no doubt that it's an critical global industry and one that is capable of driving future growth and positivity. In Australia alone it directly employs 700,000 people and is a major contributor to GDP[1].
This year tourism, and the many large, medium and small sized business operators that work in this space, have been forced to pivot to accommodate a different tourism environment. The good news is that in many cases the people who rely on tourism for their livelihood have been able to successfully adapt.
Regional tourism has boomed as border closures and general travel caution has seen populations turn back to more local holidays reminiscent of yesteryear. Let's take our own backyard as a case in point.
In 2020 South Australian's have been avidly road-tripping all over the state, enjoying all of the treasures located in our very own backyard instead of flying interstate or internationally to spend their holiday dollars.
This has been a positive outcome of the pandemic and a boom for the state's regional tourism industry which employs approximately 39,000 people[2].  This year's World Tourism Day comes at a critical moment for the industry as it looks to continue to drive the road to recovery, particularly in rural communities where the sector is both a leading employer and economic pillar providing jobs and opportunity, most notably for women and youth[3].
In 2020 World Tourism Day follows the theme of "Tourism and Rural Development"- celebrating the unique role that tourism plays in providing opportunities outside of big cities and preserving cultural and natural heritage across the globe. In the spirit of this theme, we have compiled some of our favourite regional experiences to inspire you to discover something new in South Australia!
So grab your morning coffee, keep reading and get to planning your next adventure – the October long weekend is just around the corner so the time is right!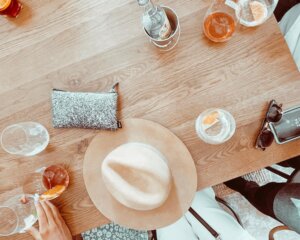 Learn all about (and taste some fabulous) Gin at Settlers Spirits in the McLaren Vale
Just a 50-minute drive from the Adelaide CBD via the Southern Expressway, the Settlers Artisan Spirits Distillery Door is the perfect place to set up camp for the afternoon and discover the ins and outs of handcrafted gin. With rolling views of local vineyards and the Willunga Hills, it's the ideal spot to sit back and enjoy their unique range of delectable gins and spirits. Our pick is the Pomegranate Gin for a Spring refresher. Discover their experiences here and remember to book ahead!

Explore the Riverland by Canoe
If you enjoyed a childhood in South Australia, you're likely to have some fond memories of fun in the sun putting your skills to the test canoeing, water skiing, and kneeboarding in the Mighty Murry River. The Riverland is home to a remarkable network of wetlands and waterways meandering through national parks and internationally recognised reserves and is a brilliant family holiday. Just a 2-3 hour drive from Adelaide, take the opportunity to put those arm muscles to the test again and clock on to river-time with a Canoe Adventure. Plus now that you're all grown up you can also discover the best local food and wine when you have had enough aquatic adventures for the day.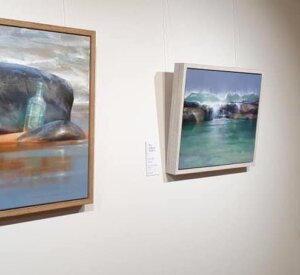 Indulge in Art & Baked Goods in Port Elliot
When thinking about Port Elliot often the first thing that comes to mind is the delicious smell of freshly baked pies, pasties and sausage rolls, and some pretty impressive donuts, made by the talented crew at Port Elliot Bakery. It's only right to indulge in a few treats after the drive up, and try their coffee while you're at it, it really hits the spot. To walk it all off, hit the local shops and galleries on the main promenade. The turquoise blue ocean that the coastline is famous for gives local artists plenty of inspiration. Check in with The Strand Gallery and Gallery 45 to view their current exhibitions.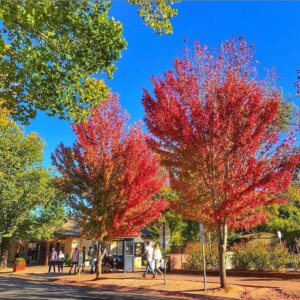 Slow down and take a walk through the main streets of Hahndorf
When strolling through the tree-lined main street of Hahndorf it's easy to get lost in the charm of it all. A now contemporary village proud of its German heritage, its history is visible in both its traditional streetscape and shopping experience. You'll discover shops full of cuckoo clocks and wooden folk art, art galleries and jewellery studios, a cheese maker, german bakeries and smallgoods, a leathersmith, candle makers, a craft brewery, winery cellar doors, a gin distillery, a chocolatier, traditional sweet shops, restaurants, cafés, German style pubs and much much more. There really is something to delight even the fussiest family member! Find just some of Hahndorf's local delights here and start planning your visit.

Have a Cheese & Chocolate Day in Woodside
Imagine a place where there is locally crafted cheese and chocolate within a one-minute walk of each other. If this sounds like your heaven, then up your (socially distanced) grazing platter and cheese board game with these two South Aussie favourites in the Adelaide Hills village of Woodside. Start with savoury and indulge at Woodside Cheese Wrights; a speciality cheese maker producing a range of cow, goat and buffalo milk cheeses. You'll find both traditional cheese styles here and a creative range of native Australian Cheeses if you're looking to try something new! Once you've satisfied your craving for cheese, head next door for dessert at Melba's Chocolate. Melba's Chocolates was started by Graeme and Joy Foristal in March 1981 in a small wash house behind their Adelaide restaurant, 'Melba's.  Today, the Melba's Chocolate Factory boasts five production rooms, and is home to iconic SA products like Traffic Lights, Inch Licorice and an assortment of chocolate and confectionery sweets. We can't guarantee this cheese and chocolate day will help with the COVID and winter kilos but who's counting anymore.
We hope these ideas have inspired you to get out and about in your own backyard and support SA's local tourism areas recover. Every visitor helps them rebuild from what has been a challenging year. If you're unable to travel at this time, perhaps consider purchasing products or gift cards from afar to enjoy at a later date. You can also help spread the word and give your friends and family ideas by posting about your local adventures on your socials or by leaving a review on their Google and social media pages.
Happy World Tourism Day to those in our tourism industry who have faced this year with grit, determination and a willingness and energy to adapt to the changing circumstances the COVID-19 pandemic has caused.
Image credits: Settlers Spirits, Canoe Adventure, The Strand Gallery, Hahndorf, Melba's Chocolates.
Referenced in this blog:
[1] https://www.abs.gov.au/statistics/economy/national-accounts/tourism-satellite-accounts-quarterly-tourism-labour-statistics-australia-experimental-estimates/latest-release
[2] https://www.abs.gov.au/statistics/economy/national-accounts/tourism-satellite-accounts-quarterly-tourism-labour-statistics-australia-experimental-estimates/latest-release
[3] https://www.un.org/en/observances/tourism-day