If I had a dollar for every person who told me they selected a wine because they "liked the label" I would be a very wealthy person by now.  So how do you select a wine for dinner?
So if you are looking for a wine to enjoy with dinner, here are a few basic tips to help you through the experience: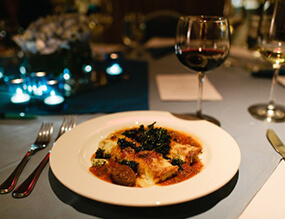 Food Matching
Traditionally, white wines are paired with fish, chicken, creamy sauces and some pork, and red wines with beef, game meats and tomato based pasta sauces.  However, with a bit of experimenting you could break the mould a little and consider pairing a light bodied red with fish or creamy pasta for example.
Spicy food traditionally goes well with sweeter wines, such as Moscato, Sauvignon Blanc, Riesling or Pinot Grigio.
Select a Region
I know it sounds like a whole load of wine talk, but soil conditions do significantly affect the taste of grapes, so the region you select will be critical to flavour.   Wine regions are separated into old-world and new-world wines.  Countries such as France, Italy and Germany who have produced wines for centuries are all considered old-world wine regions.  Countries such as South America, United States of America and Australia are considered new-world wine producers.
As an Australian I am a little bias to Australian wines.  Some of Australia's wine regions are characterised below:
Adelaide Hills has developed a reputation for being the bench mark region for Australian Sauvignon Blanc. The style is lively and aromatic with distinct grapefruit and tropical notes and crisp acidity.
Barossa Valley has a long tradition of fortified wine production but nowadays this is a much smaller part of the overall production in Barossa.  Shiraz is Barossa's star performer but Grenache, Mourvedre, Riesling and Semillon all produce exciting wines.
Clare Vale Riesling is dry with characteristic lemon/lime flavors and racy crisp acidity when young.  As it ages, complex characters of minerality and white pepper spice emerge.
Coonawarra is considered to be Australia's greatest Cabernet Sauvignon region.  The wines are generally of full of character and finesse. Medium-bodied with classic regional signature of cassis.
Hunter Valley Semillon is a unique Australian white wine which keeps getting better with age. The region is also home to innovative young winemakers are at the forefront of new varieties and styles such as Tempranillo.
Margaret River is highly regarded as a producer of powerful, yet elegant – Cabernet Sauvignon, the region has also forged a great reputation for its white wines notably Chardonnay and Semillon Sauvignon Blanc blends
McLaren Vale region is well known for its dry wines, especially those made from Shiraz, Grenache and Mourvedre.  White wine varieties in the region include Chardonnay, Semillon, Sauvignon Blanc and Riesling.
Riverland winemakers are encouraging style development and making full-flavored, generous and approachable wines that are popular the world over.
Tasmania is one of Australia's finest cool climate wine producing regions, well known for producing award-winning sparkling wine, Pinot Noir, Chardonnay and Riesling.
Yarra Valley is now recognised as one of Australia's foremost cool climate regions, capable of making classic styles from a wide range of varieties. It is known as the birthplace of Victoria's wine industry.
Select a Variety
There are many different grape varieties you can choose from and then of course there are blends of 2 or more varieties as well.  The most common grape varieties are listed below (this list is not exhaustive):
Sparkling Wines
White Wines
Moscato, Riesling, Semillom, Chardonnay, Sauvignon Blanc, Pinot Gris / Grigio, Viognier, Verdelho
Red Wines
Merlot, Pinot Noir, Cabernet Sauvignon, Shiraz, Grenache, Petit Verdot, Tempronillo, Sangiovese
The best way to know which grape variety you like best is the try them all and keep notes on what you prefer the best.
Select a Vintage
Age is not always the deciding factor on selecting a vintage for wine.  While some bottles of wine improve with age, not all do.  In fact, some commercially produced wines are made to enjoy young and fresh and may even get worse with age.
As a general rule, most red wines improve with a bit of age.  Usually most wineries don't release their red wines until the bottles have aged for two years.  On the other hand, most sparkling and white wines don't need aging.  Generally, they are ready to drink in their year of release.
If all else fails and these decisions are all too hard, then do what a vast majority of people do.  Pick the wine by the label design that catches your eye the most.