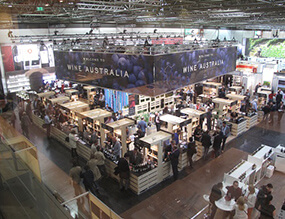 Having recently returned from ProWein in Dusseldorf, Germany; arguably the largest wine trade show in the world with over 5000 exhibitors from 50 countries I have learned from experience some tips that will help you be more successful at your next trade show.
When your company decides to spend money, time and staff resources to be involved in a trade show, it is vital that you put your best foot forward and extract as much from the event as possible.
Careful research, planning and time management can go a long way towards ensuring a successful outcome from the show.
Here are my top ten tips to help you make your next trade show a success.
1.  Location
Most trade shows will offer prime location sites at a premium price, so if you are willing to pay a little more for a prime location it is advised that you look into this early, so you don't miss out.  If you think you will be attending the trade show for more than one year, this can provide you leverage when negotiating your location contract.
You are looking for a site that will have high traffic.  A corner is often good as it will receive exposure from two directions.
Ensure you get the right size booth for your requirements; consider how much room you will need to accommodate staff, meetings with guests at tables and chairs and storage.
2.  Look
It's only natural for people to be attracted to good looking stands, therefore please be sure to put some time into designing your stand so it stands out.Use bright colours and put effort into your branding. Make your message clear and able to be seen from every direction, near or far. Use clear signs and optimise lighting. Consider your requirements of audio visual equipment, literature, merchandise, staff clothing and display items.
Have a variety of different display options to appeal to different people. Some people like flyers, pamphlets and reading materials. Other attendees are visual and would like to see a video demo on an HD screen or tablet.Consider what will make your booth "stand out" from the crowd.
3.  Staffing
Potential customers will be reluctant to approach your stand if your staff looks uninterested and unfriendly. Smiling faces of professional stand attendants are important, so select your staff well.
Many will want to engage with the booth staff and ask questions. Make sure that plenty of booth staff is available at all times and that they are trained in what you are offering.
4.  Specials, Contest or Promotions
Considered a special trade show promotion and if you choose to implement one, ensure that it is clearly communicated at your stand. Equally, everybody likes to win something. Consider offering a contest, special promotion or prize draw that will attract people to your stand.
Have participants complete contact details so that they can be added to your CRM system for future contact. A business card draw is a simple and effective way to run a promotion. Be sure to double check local competition regulations.
5.  Social Media
If you are a small business, ensure you have your social media scheduled for your regular business while you are attending the trade show.
You should also have a social media marketing plan prepared for your time during the trade show. Send invitations to your booth through your social media platform, prior to the event and keep followers updated throughout the trade show.If you are offering a promotion, be sure to communicate the details through your social media platform.
6. Promotional Products
Promotional products are a great way to get visitors to your stand to remember your brand. When selecting a promotional product giveaway, ensure you choose something that is relevant to your brand and useful to the
7.  Pre Arrange Meetings
Have a lead fulfilment plan prepared before the show starts. Pre-arrange appointments with existing customers and make appointments with potential customers. Get in early with advising all customers that you will be attending the trade show and make specific dates and times to meet closer to the trade show date. Leave enough spare time during the trade show to allow for unexpected meetings.
8.  Take Notes
Don't rely on just collecting business card from trade show booth visitors. How often have you taken a card from somebody and then a week later, have difficulty remembering the details of your discussion?
Have a lead card, note book or electronic notes system so you have enough space to record comments during your meeting at the booth detailing visitors' wants and needs. 
9.  Follow up
It is totally ridiculous to spend thousands of dollars exhibiting at a trade show and not have an effective follow-up system in place to deliver information to every exhibit visitor a week or two after the show.
Always follow up post trade show with everybody you meet during the event in a timely manner.  Have one person responsible for lead fulfilment, data entry into your CRM database, and lead transfer to sales.
Equally important is making contact with a visitor to confirm receipt of the information and offering any additional materials that might prove helpful.
10.  Post Show Evaluation
To ensure ROI is achieved and continue improvement, gather comments and feedback about the planning, execution and sales achievements post event. Ensure to keep detailed notes so that you can implement any changes required for the next trade show event.
In conclusion, you only have a few seconds to attract the attention from potential buyers at a trade show.  You need to be able to convey your message in a way that is appealing to the buyer and it's difficult for them to comprehend your message.  Equally, to ensure you gain an adequate ROI for your trade show involves a great deal of planning and follow up.  Follow these top ten tips and you will be well underway in preparing for a successful trade show.