No matter the size of your business, you need an online presence. It becomes an extension of your brand that fosters trust and familiarity with your audience and customers.
And once your business is online, Search Engine Optimisation (SEO) isn't something you can escape.
At its core, SEO is the practice of increasing the quantity and quality of traffic to your website. This is done through organic search engine results and is the main way your business is discoverable online. In fact, 57.8% of global website traffic comes from Google searches.
It can also be targeted, meaning you can optimise your website to appeal to local customers whose needs match your niche.
SEO should be incorporated in your website from its inception and maintained as your business (and by extension, your website) grows and expands.
Whether you're in the process of creating a website for your business or are just rejigging it, optimising your site for search engines just needs to involve a little planning and thought.
Tip 1: Think about the bots
Search engines like Google use bots to 'crawl' content on website pages. This lets them gather information to comparatively rank the sites and pages they find.
Unsurprisingly, the easier it is for a bot to find and read your website, the better your ranking is going to be.
There are several ways you can make your website bot-friendly:
Your domain should be simple but memorable
Your domain name is important for many reasons: branding consistency, memorability, and visibility.
Importantly, your domain name also determines your SEO ranking.
Search engine crawlers look at your domain name to figure out what your webpage is about.
Some points to consider when choosing a domain name include how unique it is and whether it contains a keyword that you'd like your business to rank for.
Keep your URLs short
Like your domain name, any other URLs linking to your site should be concise and use targeted keywords.
Often, the automated URL that a website produces can be long and complicated. If that's the case, then you can edit the URL manually to make it shorter.
This will make links you share in emails, newsletters, or on social media look neater and more professional. Shorter links also look more legitimate, meaning your audience is more likely to trust and click on the link.
Plan your site structure
When it comes to planning the structure of your website, you want to ensure it is easy for your users and for bots to use.
Having a structure that is easy and intuitive to navigate allows Google's ranking algorithm (PageRank) to accurately value your pages.
The best way to ensure this is to create a logical hierarchy for your website content. We'd suggest visualising your website as a mind map, plotting out the branches of your website in a logical way.
This also means that each of your mind map branches will become internal links, helping bots to navigate your site, and improving your SEO ranking.
Tip 2: Think about the people (users)
No matter how well your website performs under algorithms, at the end of the day, it's getting people to click on and through your website that determines its SEO value.
Because of this, it's important to consider what your website's visitors will value from your pages and content. For example:
Aesthetic design is important
Your website is an extension of your business. Just like a real-life store, it should reflect the design and aesthetic of your brand and target client base.
For example, if you're a design agency, your website could reflect this work with creative graphics and showcase examples of your work. However, if you're a business in the medical industry, your site would be clean and professional, with informative content for your patients.
Consider aspects like font and effects (e.g., italics), colour, and presentation of important information.
Finally, try to avoid intrusive pop-ups where possible. Sometimes ads are necessary. However, the cleaner and less in-your-face they are, the more seamless they'll be on your site.
Headings are key
Headings should be used throughout your website, as they give both your users and bots an idea about your content's hierarchy and relevancy.
Headings are defined in your website's HTML code and have six levels of importance, running from H1 (Title/Main Heading) to H6 (all 'subheadings') and then body copy. These headings should always run hierarchically to ensure optimal SEO.
This diagram shows the heading hierarchy used within this blog post: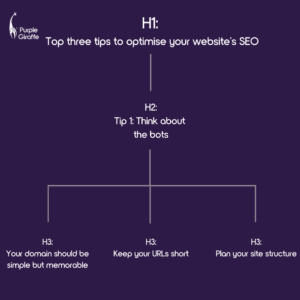 Consider accessibility
When designing a website, it's important to consider accessibility.
You must ensure that any landing pages or contact forms are optimised for mobile as well as desktop. Not doing so impacts usability and will affect your SEO ranking.
Make sure that your website also passes disability accessibility requirements, so that everyone can use it.
This means taking into consideration things like the colour of your text and backgrounds when combined, the size and style of your fonts, and including alt text for any images.
If you're unfamiliar with these, the Australian Government's Web Content Accessibility Guidelines are a good place to start.
Fix that loading time
Having images and videos on your site is great for your SEO ranking. Slowing down your site's loading time by having large files is not.
Ensure that any images are optimised, meaning they are a small resolution without being fuzzy or pixelated. Including alt text is also good for SEO ranking, as Google and other search engines can identify and value your images.
Instead of being uploaded directly to your website, large video files can be stored on video sites such as YouTube or Vimeo and embedded on your page to play. This means videos don't need to load directly on your site.
Keep your contact details up to date
For small or local businesses, ensuring that your contact details are easy to find and updated on your website is important. This way, your customers won't struggle to find you.
Have a Google My Business Page
Having a Google My Business Page is a great move for increasing your SEO ranking.
It legitimises your business in the eyes of Google and your customers.
It also:
Tells your customers whether you sell what they need
Can provide social proof through visible reviews
Tells your customers where you are and how they can purchase from you
Allows you to appear in top Google results more easily.
Tip 3: Think about the words
The content of your website is also imperative for your SEO. When uploading any text content to your website pages, you should consider:
Keyword research
Do your research and include keywords throughout your website that match what your customers are searching for. The more accurate these are, the higher you'll rank.
It's also an opportunity to hyper-localise yourself for a smaller client base.
There are plenty of free keyword explorers that you can use online to find the best words and phrases.
Use blogs to create on-page SEO
One of the most effective ways to ensure your SEO rating is off the charts is to write and upload blogs that feature key words and phrases for your business (that's meta coming from OUR blog, isn't it?).
Having long-form content on your website creates value and helps you appear as an authority in your field. You're also providing answers to your target audience's questions. Google loves this.
Be sure to share links to your blogs in other places, such as social media. Having more external links back to your website helps your ranking.
Have accurate & readable content
It's no use having ample content on your website if it's outdated or doesn't read well.
Ensure that any blog or text you upload to your website is informative, simple, and well-written.
Keep content on your website up to date and relevant, as Google ranks recent and updated data higher.
At the end of the day, the key to improving your SEO is to keep working at it. Rome wasn't built in a day, but they kept working at it every single day. Look at your website's SEO the same way and employ each of these tips one at a time to ensure the best ongoing result for your website ranking!