A total transformation has been witnessed in the social media world! Elon Musk has ushered in a new era by rebranding Twitter as 'X', marking a significant shift for the platform.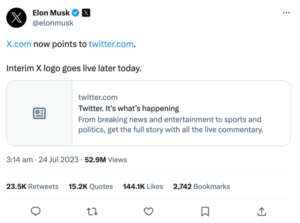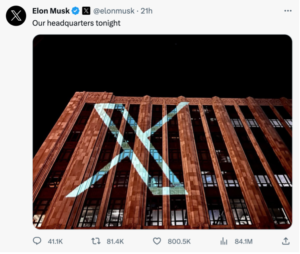 In a recent tweet, Musk announced the change and shared his vision for 'X'. He promised to integrate comprehensive communications and full financial capabilities. Musk justified the rebranding, stating that the name "Twitter" no longer aligns with the platform's evolving functionalities and ambitions.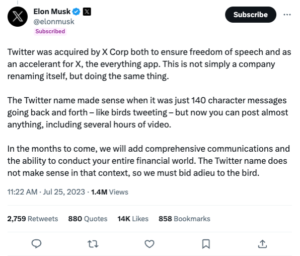 While many of Musk's enthusiasts embrace the change, long-time Twitter users appear less enthusiastic about this significant shift. The letter 'X' has been a recurring motif in Musk's ventures for over two decades, from X.com, the original name for PayPal, to SpaceX and Tesla SUV names, as well as X.AI and his child's unique name, X AE A-12. Musk envisions turning 'X' into the "everything app", signifying his ambitious plans for the platform.
This is far from the only change in the Musk era of Twitter.
Most recently, Twitter said it would limit the number of DMs for non-paying users, a LinkedIn-like hiring feature showed up for Verified Organisations, and Musk said the site would soon let users post "very long, complex articles".
What does this rebranding mean for businesses?
Whilst the rebrand of Twitter to 'X' is no doubt a detailed project for the organisation itself, it poses something of a logistical challenge to many millions of businesses around the world.
Have you considered what it means for your business?  You'll need to think about things such as:
Update Websites: Businesses with a Twitter account will need to replace icons and links on their websites with the new 'X' symbol to align with the rebranding.
Update Email Signatures: You will need to update your email signature templates with the new logo and links if your business includes social media icons in them.
Update EDM Footers: Where you have social media icons in the footer of any electronic direct mail (EDM) templates you will need to update the logo and link.
Reviewing Links: Any links previously associated with Twitter's old branding will require updating to reflect the new 'X' identity. In addition to the links previously mentioned, think about scheduled posts, links from blogs or websites.
Update Presentation Templates: If your business uses standard presentations which include social media icons in the templates these will need to be reviewed and updated as well.
Update Signage and Marketing Collateral: Businesses will need to review, update and potentially reprint street signage, banners and marketing collateral such as business cards, promotional flyers, and other materials to feature the new 'X' branding.
Review API Connections: Businesses will need to review and ensure that their integrations with social media scheduling platforms, email marketing platforms, websites and more are functioning correctly and remain unaffected by the rebranding.
That's a pretty comprehensive list, but it may not be exhaustive… there's no doubt there's a lot to think about and update!
Need help?
This significant announcement by Musk could have some pretty significant implications for your business.
It is essential for businesses to proactively prepare and adapt to the transition to minimise disruptions and ensure a seamless transition to the new 'X' era of social media.
If you're in need of a hand to help your business transition over to 'X' – get in touch, we'd be happy to help!  And as more news about the functionality of the platform comes to hand, we'll be sure to share our insights as quickly as we can.