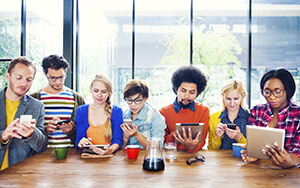 I'm by no means an advocate for generation identification, however there does seem to be some validity in the descriptions of generations which can assist marketers in their decision making.
So we've all heard of the Baby Boomers, Generation X, Generation Y and now it's Millennials.
Marketers have been talking about them for a while now, some of the BIG brands are taking notice but there are still many businesses yet to understand this generation.
There is a great deal of information available about Millennials, however to make it easy, I have developed a comprehensive list of characteristics of Millennials below.
Who are they?
In October 2004, researchers Neil Howe and William Strauss called the next generation "Millennials"
They are born in 1982, ending in 2004 (overlapping with Generation Y)
What are they like?
Family and community minded
Less likely to work while in High School compared to other generations
Most ethnically and racially diverse cohort of youth in history
The first generation in human history who regard behaviours like Tweeting, texting along with websites like Facebook, YouTube, Google and Wikipedia as part of their everyday social lives
More likely to take advantage of the health care system than previous generations
To be continually learning without compromising their work or lifestyle
They are optimistic, pragmatic and overtly confident
They are politically progressive
They don't want to be shackled to tradition or location
Less likely to be homeowners than young adults of previous generations, opting to stay at home longer or rent
Like to travel the world
Seek adventure
Tend to get married later and less often than previous generations
More women are working with school aged children than previous generations
What do they want from a brand?
Brands that will make their life better
Brands that stand for more than just their bottom line
Brands to entertain them
To participate in the co-creation of a brand
To be able to provide feedback on their experience with a brand, both good and bad
No cool, hip, chic brand talk
Some reports boldly state that Millennials are the next greatest generation since the baby boomers. I think with all information on generations that is made available, caution and judgement should also be taken into account when comparing people. We should take every assumed aspect of the Millennial generation as a barometer of wider, shifting and often completion social values as a guide instead of the fixed characteristics described above in our decision making toward marketing your brand or service.