Do you have reservations about using TikTok for business?  It's now or never to take our TikTok masterclass.
TikTok is the hottest new social media platform. But what does it actually do? You're probably thinking it's just some lip-syncing video app for teens. Although younger generations are gaining a stronger foothold in the economy, they are notoriously difficult to market to. TikTok provides the crucial first step into marketing to Gen Z.
Described as a mashup of Vine, Twitter and Instagram, TikTok provides an entertaining and relaxed platform where you can highlight a less curated version of your brand.
This post provides the ultimate TikTok masterclass in creating an effective presence on the platform.
Why Now?
Only 3.1% of working professionals aged 16 to 64 say that their companies use TikTok for marketing activities (Hootsuite Digital 2022).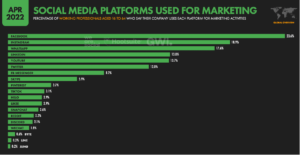 The potential audience aged 18+ that marketers can reach with ads on TikTok amounts to 19.4% of total internet users  – suggesting there is untapped potential (Hootsuite Digital 2022):
It's not as over-saturated as Facebook, Instagram, or YouTube
It's cheaper to advertise on as there isn't a strong influencer community yet; there are far fewer users competing for sponsorship and ad placements
With a predominantly youthful demographic, TikTok will help you create meaningful connections and interactions with Gen Z
Where Do I Start?
You need to understand how the app works. Generally, there are two main areas, the "For You Page", and the "Following" page.
For You Page
You'll find some of the most popular videos on the "For You Page". At first, the app will show you all genres of popular content. Once you begin engaging with videos through "liking" and "sharing", the TikTok algorithms will streamline your interests.
Consumers don't need to be following anyone to have a positive user experience, making it an attractive marketing tool. Businesses have the capability to reach their target markets better than ever before.
Following Page
The "following" tab will show the most up-to-date content from the pages you follow – this usually depends on your interests.
Gen Z
Although TikTok provides a gateway to the Gen Z market, they are notoriously hard to grasp and retain. This can be because:
Gen Z are less concerned with brand appeal
They expect a meaningful interaction
They are less forgiving when it comes to tired old sales tactics and blatant attempts to manipulate customers
So, What's the Key to Success?
Successful brands are taking the same approach as social media users. Create content that reveals your brand's true personality. The more fun you have with it and the more relaxed the content is, the more likely users are to feel connected to your brand. This connection is one of the only ways to establish trust between the products or services sold and the consumer.
Here's three key strategies:
Challenges
Influencers
Advertising
TikTok Challenges
TikTok is known for its incredible reach and the ability to go viral overnight. So why not create or sponsor a TikTok challenge?
Challenges are the bread-and-butter of TikTok. They have extreme viral potential. So long as they are easy to replicate and intriguing enough for the audience to want to participate.
Do your research
Create a hashtag worth sharing
Don't lose sight of your brand
It must be memorable
Choose an appropriate audio
Establish clear rules and guidelines
Promote your challenge
A Success Story
Brands can create a community around a branded hashtag.
When a user clicks on the sponsored hashtag, it leads to the hashtag challenge page. The hashtag challenge page features the brand logo, challenge description, sponsorship disclaimer and the ability to link to the company's website or shoppable landing page.
GUESS sponsored the #InMyDenim challenge. They gathered more than 5,500 user-generated videos, a 14.3% engagement rate, 53.5 million video views, and more than 12,000 new followers for their TikTok profile.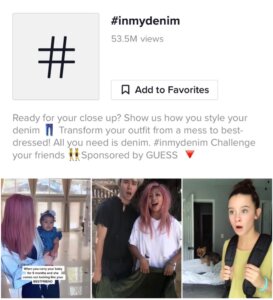 Influencer Created Content
You have seen how successful influencer marketing can be on other social media platforms. Why not carry this strategy across to TikTok?
Businesses can pay TikTok influencers to:
Talk about your product in a TikTok video
Post about it in the video description
Link to your brand in the description
Businesses do not need to collaborate with big-name TikTok users to be successful. Instead, you can work with various users within your niche market or followers who frequently comment and engage with your brand posts.
Advertisements
TikTok has launched its very own advertising platform, 'TikTok for Business', making it that much easier to track your brand metrics.
Businesses can now also pay to have their ads shown to TikTok users:
TopView: Ads can be the very first thing users see when opening the TikTok app.
Infeed Videos: Ads can pop up in between user content.
Brand Takeovers: By creating images, GIFS and videos that link to your webpages or challenges, ads have the capability to take over TikTok for the day.
Wrapping Up Our TikTok Masterclass
Marketing to younger generations may be difficult, but it is not impossible. TikTok offers an avenue for businesses to engage with the Gen Z market, by playing by their rules and remaining authentic to the brand. Ultimately, this is no easy feat, which is why our TikTok masterclass is so timely.
If you have any questions, want to learn more, or are interested in our outsourced marketing services, we've got you covered. Say hello today!